Rope construction of two pairs of strands with right hand twist and two pairs of left hand twist, braided together in such a way that pairs of strands of opposite twist overlay one another.
Material: Composite yarns (polyester high tenacity / polyolefin)
Cross section: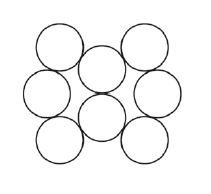 Construction: ASTRALINE® is an 8 strand multiplait constructed rope, comprising Lankhorst special polyolefi n blend inner yarns and high grade polyester yarns. This composite yarn has been proven to have excellent abrasion resistance performance.
Lankhorst ASTRALINE® hawser ropes have been fully prototype tested and are manufactured, inspected and supplied in accordance with the OCIMF 2000 "Guidelines for the Purchasing & Testing of SPM Hawsers".